Tala loan app download: apk install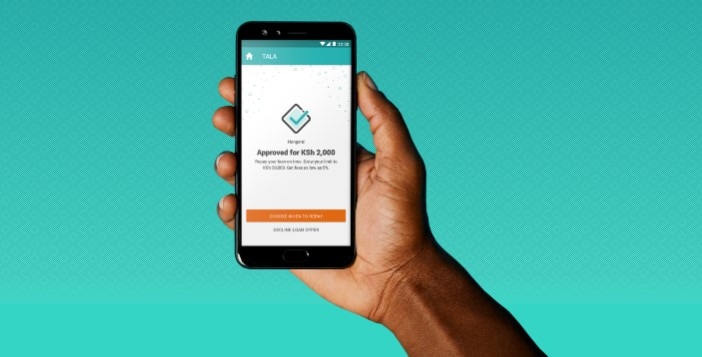 In these tough economic times where banks have increased interest rates that make it harder to get unsecured loans, a simpler way to get a loan is heaven-sent. The Tala loan app provides an alternative way to get short-term loans, that doesn't involve complex procedures that are in use by banks and other lending institutions. Here, you don't need a guarantor, security, or a good credit rating. Besides, the loan is instant, unlike other institutions where you would have to wait a minimum of 30 days. If you need a loan from Tala, you have to download the app first. This Tala loan app download guide will help you to install the app on your device.
New types of loans have emerged in Kenya, that are more accessible than those offered by banks – mobile loans. They became popular after the launch of the Safaricom M-Shwari, and others such as the KCB M-Pesa, that is also accessible through mobile devices. Tala is one of the most popular money lending services in Kenya
READ ALSO: Top loan apps in Kenya
Tala is a financial lending service operating under the company Inventure Access, which offers instant loans through mobile phones. The service is offered in Kenya, but the lending company is based in California, USA. Tala, formerly Mkopo Rahisi, was among the first lending services to offer mobile loans that only require online registration and application.
How does Tala work?
Tala is a mobile-based financial lending service that operates through the internet. The service is accessible through the Tala loan application, which is available on smartphones and other smart devices. To start using the service, you simply need to download the app to your phone, complete the registration process, and apply for a loan. If you are eligible, the money is deposited to your mobile money account. Currently, the service only works with M-Pesa.
The loans that are offered vary depending on your M-Pesa transaction history. The app will usually scan your phone's M-Pesa messages to find this history. Usually, the starting amount will be around KES 500 or higher. However, over time, you can grow the amount up to KES 50,000. To get access to more funds, you need to increase your usage of the service, make early repayments, and complete multiple M-Pesa transactions.
Tala loans are unsecured, meaning that you are not required to provide security or a guarantor. However, as a result, the repayment periods are shorter than those of standard financial institutions (current repayment periods of 30-days or 21-days). The loans also attract an "interest rate" which the company refers to as a service fee. Current service fees are 15% for 21 days and 11% for 30 days.
To access the service, you need an internet-enabled device such as a smartphone or tablet and the Tala loan app.
Tala loan app download for Android
For Android phones and devices, the Tala loan apk is available on Google Play Store. Follow this Tala loan app download process for Android devices:
Go to Google Play Store on your Android phone or device
Search for and install the app
Register for an account – you will need an activated M-Pesa line for this. Other personal details will also be required, such as full names and a national ID/passport number.
Tala app for Microsoft
You can download Tala app for Microsoft by following these steps:
On your Microsoft phone or tablet, visit the Microsoft Store.
Search for the Tala app for Microsoft
Click Get to install the app
Register and start borrowing
Downloading Tala loan app on iPhone
Tala for iPhone and other iOS devices is not currently available. Since Tala needs access to text messages in order to determine the amount in loans that you are eligible for, Apple isn't expected to provide such access easily. This is especially because the company markets its operating systems as the most secure.
If you are using any other device apart from the above-mentioned, you won't be able to access Tala loans. Unlike other mobile loan apps, a Tala USSD code is not available currently.
How to apply for a Tala loan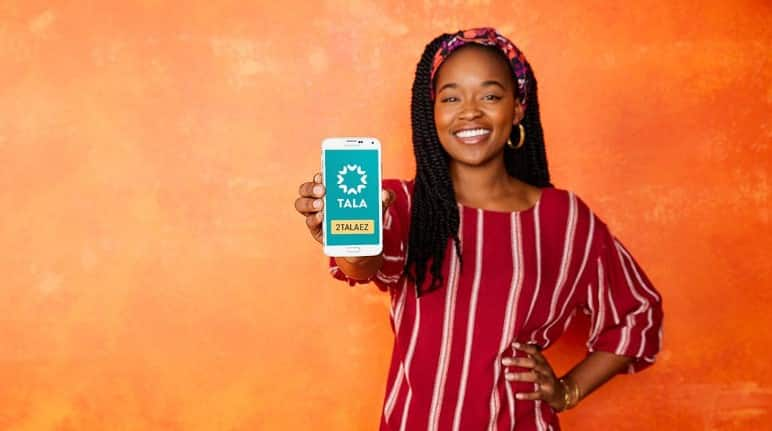 The application process is simple. These tips show how you can go about getting your first and subsequent loan.
Once have completed the Tala loan app download and registered, login into your Tala account. The app will scour through your phone's message for M-Pesa transaction history to determine how much money you are eligible for. This process will only take a few minutes.
Go to the "Apply Now" section. Answer the questions asked. For example, the reason for the loan, outstanding loans, among others. Once you are done, the amount you are eligible for will be displayed.
Choose the repayment period. Options are normally 30-days in one installment or 21-days in three (weekly) installments.
Click "Send My Loan" to have the money sent to your M-Pesa line. It is sent almost instantly. In most cases, it is usually within a few minutes.
READ ALSO: How to apply for a Haraka loan
However, applying for a loan online is not a guarantee that you will get one. There are several factors that can lead you to not getting approved or getting a smaller amount. These include:
If you have outstanding Tala loans (for existing users) – you must first repay the current one before getting another.
If you were late in repaying your previous loan
If you have outstanding loans with other financial services
If you have defaulted on your loan – the service checks on the CRB (Credit Reference Bureau), Kenya's database of defaulters.
If your M-Pesa transaction history doesn't meet the requirements for awarding a loan.
Withdrawing your Tala loan
A Tala loan is deposited into your M-Pesa account, not your Tala account. Therefore, once you are approved, you will get immediate access to your money. From the M-Pesa account, you can withdraw the money from an M-Pesa agent or an ATM.
Tala loan repayment
Tala loan repayment is also quite simple, just like the registration and application process. To repay your loan:
Go to the Sim Tool Kit app on your phone and choose the M-Pesa service
On the M-Pesa menu, select the "Lipa Na M-Pesa" option and then choose "Paybill".
Enter Tala's paybill number 851900
Enter your M-Pesa number (one used to register Tala) as the account number
Review the money transfer request and submit it to send the payment. In a short while, a payment sent message (from M-Pesa) and payment received message (from Inventure) will be sent to your phone number. The payment will also reflect on your Tala account, allowing you to apply for another loan.
Tala app contacts
When experiencing problems while using the app, use the following details:
Email: [email protected]
Facebook: @TalaKenya
Twitter: @TalaKenya
If you are looking for a quick and reliable solution to your current financial woes, the Tala loan app can help you to get instant cash to sort out your urgent financial needs, including emergency expenses, business expenses, and personal expenses. The best part is, you do not require any loan security. Simply download the Tala app, register an account, and apply for your first loan. Hopefully, this Tala loan app download guide has helped you get and install the app on your device.
READ ALSO: Top instant loans you can get via M-Pesa
Subscribe to watch new videos
Source: Tuko.co.ke
Comments
comments
KISERO: What KCB-NBK merger means
What KCB-NBK merger means
Thursday, April 18, 2019 21:58

By JAINDI KISERO
The Press statement by the Kenya Commercial Bank (KCB)announcing its move to acquire the National Bank of Kenya(NBK) through a share swap did not give much detail.
The statement only said that the deal would involve 10 ordinary shares of NBK for every one ordinary share of KCB. If it works, we will have seen the end of one of the most troublesome chapters in the country's banking sector. Even though NBK has a weak balance sheet, it will bring to the table strong customer-facing assets for the combined entity. It has retained branches in exclusive locations at airports, ports of exit and entry into the country, giving it advantage when it comes to inter-trade business.
Secondly, it has over the years retained exclusive viable public sector clients. In the past, NBK was the designated bank for receiving landing fees for all aircraft landing and taking off from Kenya. It retains a substantial part of the business.
NBK used to be the banker for the largest employer in the country — the Teachers Service Commission. It still retains a substantial portion of the business. It used to be the designated banker for receiving payments to Kenya Revenue Authority and still retains a big chunk of this business.
So, what are the likely outcomes of the proposed merger? First, the government's stake — now at 17 percent — is bound to increase with consequences for the corporate governance of the largest bank in the country.
The public float, a broad and impressive spectrum currently holding in excess of 80 per cent, may also suffer dilution.
When the details of the transaction are finally put out, it will be interesting to see how the vexing issue of the mainly government-owned preference shares in the books of the bank — which have always been the deal breaker for investors interested in buying the bank — will be treated.
NBK has a peculiar capital structure of having normal ordinary shares and at the same time preference shares with equity-like features that, unlike normal preference shares, allow these securities to share in the profit of the bank.
Indeed, transaction advisers hired in the past to sell the bank have advised that no sale transaction of the NBK is possible unless the preference shares are converted into ordinary shares first, and on a 1:1 basis.
Predictably, the National Social Security Fund (NSSF) has been opposed to the 1:1 conversion formula, arguing that such a move would dilute its current near majority 48 percent stake of ordinary shares of the bank.
This is because, when the 1:1 conversion formula is applied, the Treasury's stake rises to 70 percent of ordinary shares from the current 23 percent, giving it power to make unilateral decisions on the future of the bank.
It will be interesting to see how the National Treasury and KCB will navigate through this shareholding quagmire.
With the shares of the NBK currently trading at its lowest multiples and at a steep discount on the book value, this transaction could put the government and the NSSF in a position where they can start realising a return on their investments in the bank.
The two investors have not been able to earn a return either by way of capital appreciation or dividends from the billions they invested in the company in nearly two decades. But more significantly, a takeover of NBK will serve as a strong signal that distressed State-owned banks will no longer be artificially kept alive even after they have long outlived their usefulness.
Indeed, many of the State-owned banks have been in poor financial health, only managing to limp along because of support and regulatory forbearance from the Central Bank of Kenya (CBK) .
A good number are currently suffering crippling liquidity problems, forcing them to resort to complete dependence on the CBK discount window for liquidity. In the interbank market, they are unable to access liquidity easily because the large banks are not willing to lend to them, choosing to deal only with their large peers.
How I hope that the proposed merger of NBK and KCB will just be but the beginning of structured changes that will eventually give us a long-lasting solution to widespread distress within the State-owned segment of the banking sector.
Comments
comments
Keter defies GDC board on chief executive new term
Keter defies GDC board on chief executive new term
Thursday, April 18, 2019 21:58

By EDWIN OKOTH
Energy Secretary Charles Keter has defied the board of Geothermal Development Company (GDC) in extending the term of the firm's CE0.
Mr Keter has offered GDC boss Johnson ole Nchoe a one-year contract despite the board's verdict to seek a new managing director.
Mr Nchoe, whose three-year term ended on Wednesday, sought a contract renewal. This triggered a board review that gave him a score of poor.
The board gave him a score of 39.6 percent for the six months to December and 39.8 per cent for the year ended June last year with both scores categorised as poor.
"He sought a contract renewal and we said no based on his appraisal," said a GDC director who sought anonymity fearing reprisals from Mr Keter.
"The board spoke, but the CS had a final word that was contrary to the resolution of the directors.
"This is out of step with good corporate governance."
Mr Nchoe, who was picked to head GDC in April 2016 on a three-year contract, previously worked at Kenya Power as IT and telecoms chief manager until 2013 when he joined a group of consultants in Liberia on a donor-funded plan tasked with helping the West Africa nation rebuild its electricity network.
He protested the poor review from the board, arguing it was designed to embarrass him.
"He felt strongly that the evaluation was designed to embarrass the person of the CEO and was inconsistent with the good board evaluation results," said board minutes capturing Mr Nchoe's protest.
The one-year contract extension is tied to the fact that Mr Nchoe will next April attain the mandatory retirement age of 60.
His predecessor, Dr Silas Simiyu, also fell out with the board, prompting his resignation in March 2015 after he was adversely mentioned in tender irregularities.
Eight months after Dr Simiyu's exit, the board suspended six GDC managers including acting CEO Godwin Mwawongo, company secretary Praxidis Saisi and tender committee members Mr Abraham Saat, Mr Peter Ayodo, Mr Caleb Mbayi and Mr Nicholas Karume.
Comments
comments
Tea rebounds to Sh203 at weekly auction amid shrinking supply
The amount of tea withdrawn from sale at the auction fell 24 percent this week as price increase at the Mombasa auction saw buyers sell most of the commodity.
Data by East African Tea Traders Association indicates only tea worth Sh228.8 million was offloaded from the auction against that valued at Sh302.3 million last week. In trading held on Tuesday, a kilogramme of tea on average went up to Sh203, up from Sh193 realised last week.
Tea prices have been falling in the last two months but have rebounded in the last two sales as volumes offered started coming down because of the ongoing drought.
The volumes offered for sale this week dropped from 7.275 million kilos to 7.2 million as adverse effects of droughts hit tea farmers and factories.
Over 40,000 tea factory workers have been forced to go on advance leave as production went down by half.
Kenya Tea Growers Association (KTGA) chief executive officer Apollo Kiarii says the harsh climatic conditions have forced factories to operate three to four days a week, significantly cutting down operations.
He said it will take another six to eight weeks for the crop to recover if the rains come, and additional cost of replanting and infilling the fields for the dried-up bushes means the industry performance for the year 2019 will be poor than any other time. The Tea Directorate had forecast the volumes will this year drop to 416 million kilos from a high of 474 million kilos last year.
Comments
comments