Security detail of governor Waititu, Senator Kihika and MPs Ngunjiri and Ichungwah withdrawn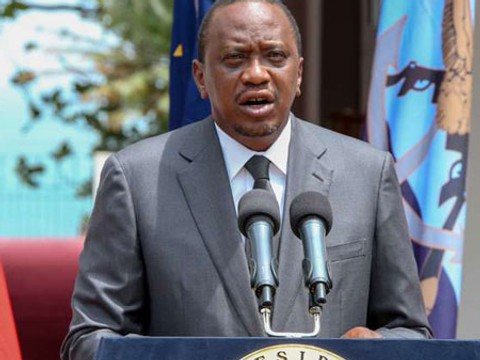 President Uhuru Kenyatta's administration has rattled a section of Jubilee politicians allied to DP William Ruto by ordering for the immediate withdrawal of their security details.
The move which was effected on Friday saw body guards attached to Kiambu governor Ferdinand Waititu, MPs Kimani Ichungwa (Kikuyu) and his Kandara counterpart Alice Wahome amongst others withdrawn.
Speaking to a local media house, Governor Waititu and Ichungwah confirmed that their security details had been withdrawn for reasons they are yet to know.
"Ask them what do they want to do with my family while am away. They are being told its orders from above in the PS's office" Ichungwah said.

Kimani Ichungwah at a past presser

Ichungwah pointed an accusing finger at the interior Principal Security (PS) Dr Karanja KIbicho.
New directive issued to CSs
It has also emerged that despite a policy requiring the MPs to only have one security, others had up to five as a means of enticing them to remain defiant and loyal to the powers that be.
An officer privy to the details revealed that "Officers were haphazardly allocated to politicians to entice them to remain defiant. Based on how close they were with the the powers that be. A senior politician could put a case to Boinett on behalf of the MPs".
According to The Standard, the decision was arrived at during a meeting held at Vigilance in which those in attendance resolved to withdraw the officers who will be redeployed later once the mess has been addressed.
Coincidentally, all the leaders whose bodyguards have been withdrawn have been accompanying DP Ruto on his countrywide engagements, declaring allegiance to DP Ruto's 2022 bid with the leaders poking holes on the ongoing war against corruption.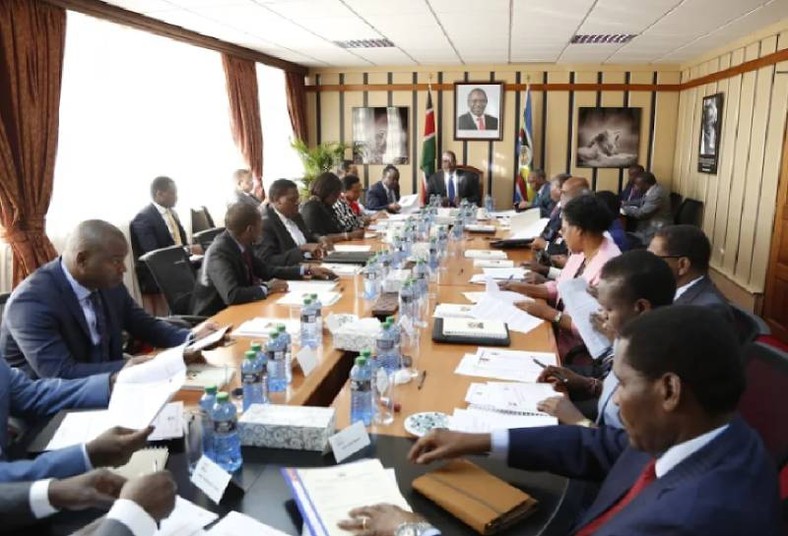 File image of a past Cabinet meeting

A circular has also been issued to all Cabinet Secretaries (CSs) to stop going to political events and focus on mass registration of the National Integrated Identity Management system (NIIMS) popularly called 'Huduma Number' starting Monday 15 April.
It is believed that this will effectively ground all CSs who have in the recent past attended public events alongside DP Ruto with 2022 politics featuring.
Comments
comments
Raila mints millions out of legislative meeting in Kisumu – Weekly Citizen
Opposition chief Raila Odinga is laughing all the way to the bank after raking millions of shillings through the family prestigious hotel that play host to annual legislative meeting that brought about 4,000 delegates in Kisumu.
Grand Royal Swiss Hotel General manager Shanawaz Basheer conquered that the summit was a booster to them adding t the facility was 100 percent booked days before the kickoff of the event.
This was the first time the annual summit was held outside Mombasa after delegates resolved to rotate it in the spirit of devolution.
The over 4,000 delegates who included county assembly speakers, senators and ward representatives from the 47 regional governments attended the event.
President Uhuru Kenyatta was on Monday conspicuously absent at the opening of the 4th Annual Legislative Summit.
He along with his deputy William Ruto and AU envoy Raila Odinga were expected to grace the occasion but none of them showed up.
Comments
comments
Pressure on Uhuru to extend Mwathethe tenure as KDF boss – Weekly Citizen
President Uhuru Kenyatta is under pressure to extend the office term of the outgoing Chief of Defense Forces General Samson Mwathethe as another group close to him demands for an immediate replacement of the KDG boss whose term expires today.
Those who are opposing extension of Mwathethe's term into the office for another one year has already identify Mwathethe's deputy Robert Kibochi as the next perfect successor.
Mwathethe took over in April 17th, 2016 from Julius Karanga who retired after 40 years in service.
Following push and pull between powerful faces in the statehouse President Uhuru has been left torn between extending Mwathethe's term, or replace him immediately after the end of his four year term as stipulated in the infamous Tonje Rules.
Former Chief of General Staff Daudi Tonje during his reign formulated a rule that the Chief of Defense Forces be held in a four-year rotational basis among the three disciplines that makes Kenya Defense Forces.
President Kenyatta congratulated Lt. General Kibochi on his appointment as the new Kenya Army Commander
Comments
comments
Why Uhuru has gone into hiding? – Weekly Citizen
President Uhuru Kenyatta sneaked back into the country from Mauritius two days ago and retreated to a hide out to fine-tune a major government reorganisation that will see corrupt official sent packing, we can now report.
Sources revealed that the President opted to jet back into the country announced, even without the knowledge of his Deputy William Ruto.
The last time Kenyans heard of the President is four days ago when he addressed Mauritius investors accompanied by the country's Prime Minister Pravind Jugnauth.
Uhuru left for Mauritius on April 9 and upon arrival paid a courtesy call on the Acting President of Mauritius Paramasivum Pillay Vyapoory at State House, Le Reduit.
He was accompanied by Cabinet Secretaries Monica Juma (Foreign Affairs) and Prof George Magoha (Education) among other senior government officials.
On a state visit to Port Louis, President Uhuru Kenyatta convinced the Mauritian government to lift the ban on avocados and other produce from Kenya.
On Monday, queries were raised after the President skipped the fourth annual Legislative Summit in Kisumu.
He was expected to give a keynote address, award national honours to county assembly speakers and launch the global champion for youth agenda.
The Head of State was scheduled to open the event at 10am. Nobody represented or read his speech.
More than 4,000 delegates attended the summit that brought together senators, MCAs from the 47 county assemblies and partners at the Grand Royal Swiss Hotel from April 15 to 18.
Kisumu residents expected the President to address the progress of devolution, the handshake, development and his fight against corruption.
Three weeks ago, the President's Twitter and Facebook accounts were suddenly deactivated shortly after he posted a tweet on corruption.
Speaking on the deactivation, Chief of Staff Office of The President, Nzioka Waitu said the President's accounts had temporarily suspended and necessary remedial measures were being undertaken.
"On account of unauthorised access to the official social media handles of H.E the President of the Republic of Kenya, Uhuru Kenyatta. All official social media handles for the President have been temporarily suspended to allow for the necessary remedial measures to be undertaken," the Chief of Staff said.
Comments
comments