Papa roach: Farmer breeds bugs for the table, sells them for over Sh1.3m : The Standard
AFP 16th Apr 2019 08:08:48 GMT +0300
As farmer Li Bingcai opened the door to his cockroach farm in southwest China, an insect the size of a dart flew into his face.
Picking the critter off his forehead, he tossed it back into the dark room where some 10 million more of its kind scurried around, housed in wooden frames perched on shelves.
The six-legged creatures may be a bugbear for most, but Li and other breeders in China are turning them into a niche business.
Some sell cockroaches for medicinal purposes, as animal feed or to get rid of food waste.
SEE ALSO :We whine about atrocities, criticise those who help us
Li breeds them for something else: food for human consumption.
A restaurant down the road from his small facility fries them up in famously spicy Sichuan sauce for the gutsier eaters.
"People don't believe how good it is until they try some," Li told AFP, putting a live one into his mouth as others crawled all over the place and people visiting.
Known colloquially as American cockroaches, the Periplaneta americana is one of the largest species and are consumed for a variety of ailments: stomach ulcers, respiratory tract problems, and even simply as a tonic.
"The greatest effect of cockroaches are that they have great immunity, which is why humans will absorb its benefits after eating them," Li said, noting that in China cockroaches are dubbed "Little Strong" because they can live for days even after being cut in half.
Tucked at the edge of bamboo-covered mountains in Yibin, Li's facility is a nondescript single-storey former farmhouse surrounded by crop fields and livestock farms.
The breeding area is roughly the size of a badminton court, with windows sealed off with netting to prevent any great escapes.
Security is paramount: In 2013, some one million cockroaches escaped a farm in eastern Jiangsu province roamed free after their greenhouse was destroyed.
Health benefits?
Li's cockroaches live between the spaces of square wooden frames that are held together by pipes and stored in racks lining two rooms. The place is kept warm and humid, leaving a smell reminiscent of damp clothes.
Feeding time causes a frenzy — as Li heaps a mix of ground corn, fruit and vegetable peelings on small trays, the insects suddenly swarm the platforms, crawling over each other.
"We breed them in a hygienic environment. They eat proper food — nothing synthetic," he said.
Every three months, Li harvests the cockroaches to keep the population under control by dropping some into a vat of boiling water before dehydrating the carcasses.
Last year, he sold one tonne of dried cockroaches to a pharmaceutical factory for nearly 90,000 yuan (Sh1.364 million).
Li ran a mobile phone shop when he went into cockroach farming in 2016 because it was low cost business and the insects are easy to rear. He converted his farmhouse and bought eggs from another breeder.
His main source of income is from selling the insects directly to farms or medicine factories, and this is supplemented by an online shop his daughter helped set up. Half-a-kilo (1.1 pounds) of whole dehydrated insects retail for between 100 and 600 yuan (Sh1,500-Sh9,000).
In neighbouring Xichang, the Gooddoctor Pharmaceutical Group runs the world's largest cockroach farm where a whopping six billion insects held in a facility that employs artificial intelligence in monitoring movement and environmental conditions.
Cockroaches were added in the late 16th century to the Compendium of Materia Medica, the most comprehensive medical book ever written about traditional Chinese medicine.
The bugs have detoxifying properties and can act as a diuretic, said Liu Daoyuan, chief specialist at the Yinchuan City Yongshou Medical Centre.
"It is also effective for relieving sore throat, tonsillitis, (liver) cirrhosis and fluid build-up," he added.
But other Chinese medicine experts caution that a poorly regulated industry with a low barrier of entry could result in adverse effects.
"Anything in excess can be harmful, even ginseng," warned Goh Chye Tee, director of the Chinese Medicine Clinic at Singapore's Nanyang Technological University.
He noted the insect is not named China's official compendium of drugs covering both Chinese and western medicine.
'They are gold'
But Li is more interested in turning roaches into a delicacy and is working with a local restaurant.
Customers have been clamouring for a taste after hearing about the dish's health benefits, said owner Fu Youqiang, who cooks up to 30 orders a month.
Diner Luo Gaoyi, who was trying the insect for first time, described it as being "quite tasty, very fragrant, very crispy".
"I think that anything good for health should be eaten, no matter what it is," he said. "These have high nutritional value and are high in protein."
Li is also working on expanding his line: cockroach-laced medical cream, cockroach medicated plasters, and insole inserts containing cockroach essence.
He said: "There is so much good in this one insect, I want to tell more people about it. A lot of people think it's a pest but to me, they are gold. They are like my children."
Register to advertise your products & services on our classifieds website Digger.co.ke and enjoy one month subscription free of charge and 3 free ads on the Standard newspaper.
Related Topics
Comments
comments
Amazon Shuts down its Chinese market place
Amazon is planning to shut its Chinese market place Amazon.cn and its customers in the country will no longer be able to buy items from Chinese merchants, according to various media reports.
"We are notifying sellers we will no longer operate a marketplace on Amazon.cn and we will no longer be providing seller services on Amazon.cn effective July 18," the company said in a statement, referring to its Chinese-language site, according to the Financial Times.
However, the US firm will continue operating other services in China like the Amazon Web Services.kindle e-books and cross border teams that facilitate the shipping of goods from Chinese merchants to customers worldwide.
According to a report by Bloomberg, the company's Chinese website will only have diminished offerings sourced from its global network starting from July 18th.
Comments
comments
Has Easter Become Too Commercial?
Has Easter Become Too Commercial?
Friday, April 19, 2019 9:54

By GEOFFREY IRUNGU
By the accounts of many religious leaders and scholars, Easter is the most important festival in the church's calendar.
Christmas is actually part of the preparations for the Easter festival, dating back to at least the second century after the birth of Christ.
However, over the centuries the holiday has become more controversial in meaning with emphasis becoming increasingly about consumerism that goes well with modern capitalism and less about religion where it initially came from.
Some observers of religion say that secularism and its extensions, like commercialism, has increasingly taken the space that may not have been properly filled by spiritualism.
From the beginning there were controversies around the holiday, including about the dates, its origins and justification.
Meetings were held without reaching unanimity of how the rite should be observed.
"The first recorded World Ecumenical Council, the Council of Nicaea in AD 325, sought to set a uniform date of Easter celebrations something that has remained controversial ever since.
There have been more recent calls however, for ecumenically-based Churches to reach common agreement on the date for Easter.
The most notable is the Aleppo Statement, issued in 1997. The Aleppo Statement received general support and yet for all that appears, the search for unity on this issue has essentially been put on the back burner," says Dr Ng'ang'a Gichumbi, a scholar of religion and a psychotherapist.
Some scholars and enthusiasts of ecumenism say that it has reached a point that some people no longer associate the holiday with religion but with commerce.
Glitzy advertising and selling are the hallmarks of the holiday rather than worship and remembrance of what Jesus Christ was supposed to have gone through.
Consumerism, marketing frenzy and uncontrolled spending have come to be associated with the holiday.
Only that merchandising is not as it was in the Jerusalem Temple of Jesus's day, but is now physically outside of the church.
And yet Jesus himself drove out money changers, robbers and other merchants from the Jerusalem temple in which these had made their station.
Capitalism had attempted to seize the festivals for their use and benefit, something that Jesus was against and therefore whipped the merchants from the temple on the day following his triumphant entry into the town.
Perhaps, this is one of the major reasons the people around Jerusalem thought Jesus was a more loathful character who should executed than the notorious prisoner Barabbas whom they choose to be released. How could he dare bring to an end a tradition that had been going for years?
Dr Gichumbi says that consumerism is an extension of secularism that has taken hold of the event or festival.
"But why is Easter increasingly being taken over by secularist commercial interests which relegate it to the periphery and override its central message of triumph of good over evil? It is easier to blame secularising forces for this 'diabolic crusade'.
"However upon serious interrogation, it becomes clearer that churches are generally failing to provide semantic innovations in regard to the Easter event and because nature abhors a vacuum, gallant secularising forces are filling in the glaring void."
It could very well be the same forces that have led to the prosperity gospel that chases after wealth.
A marketing manager at a commercial bank said that it is inevitable that companies will use the Easter event to drive uptake of their products as people are normally in a spending or a party mood and a more willing to splurge on goods that they would not otherwise spend a lot on at that time.
For example, he said the bank was using its mobile banking application to encourage people to send money to their relatives or dependants.
This may be seen as an indication that the religious festival makes people more generous.
But some religion scholars have no problem with secularism or commercialisation of Easter, saying that it was part of the tradition of the religion at the time of Jesus.
They say that at Jesus's time, the selling and buying or even the exchange of cash in the temple was not unusual.
James F. McGrath, a professor of New Testament language and literature at Butler University in Indianapolis (US), wonders why anyone should think that the presence of commerce and noisy animals being sold in the temple bothered Jesus that much, alluding to something else as having been the reason for his whipping of the merchants.
Others suggest that Jesus just wanted to cause commotion so that the predictions of the Bible on his persecution (and therefore proof he was the Messiah) could be fulfilled.
Prof McGrath says: "We should not think that the presence of noisy animals and commerce bothered Jesus just because they spoiled the worshipful atmosphere. An ancient temple was not supposed to be like a quiet cathedral.
"It was loud and bustling. The sale of animals was essential for the temple's main function as a place for the offering of animal sacrifices… "The money changers were there to convert various currencies into one standard coinage, the Tyrian shekel, [which] was used for the payment of the annual temple tax.
"Both the selling of animals for sacrifices and the payment of the temple tax were activities required by Jewish law and central to the temple's functions."
In one story carried online by the BBC, Jesus is depicted as the architect of his own death. It says: "Many experts believe that, more than anyone else, the person responsible for the death of Jesus was Jesus himself.
There is a considerable body of evidence to suggest that everything He did was planned and that He knew what the consequences would be.
Jesus believed profoundly that He was on a mission from God and everything He did was to fulfil that mission.
In the events of Holy Week, Jesus seems to be deliberately acting out the prophecy in Hebrew scripture about Israel's true king, the anointed one, the Messiah, coming at last to be God's agent to redeem Israel."
Dr Gichumbi however says that despite the Bible story linked to the holiday, commercialisation and secularisation has served to make more obscure as to the importance of the holiday and increase controversy around it.
He says: "The rise and rise of secularism and its relentless attacks on the Easter event, which really is the heart of Christianity has only served to raise the Easter controversy a notch higher.
Yet it would be reckless to dismiss secularism without any attempt at understanding its internal mechanism. Again.
To situate the relationship between the Easter event and its attacks by forces of secularism, it is important to understand it within the wider matrix of religion.
In general, secularism tends to place higher premium on rational thought than myth and ideology which it believes belong with religion of which Easter event is part."
Comments
comments
Jimnah Mbaru makes Sh. 450 million from Britam share sale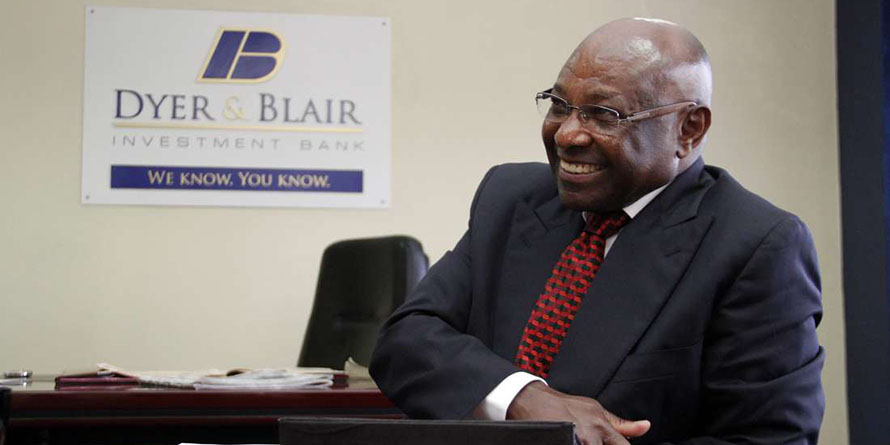 Jimnah Mbaru's Wealth: Billionaire businessman Jimnah Mbaru has made some Sh. 450 million from a share sale deal.
This is after the businessman sold 50 million Britam Holdings shares to Zurich-based insurance giant, Swiss Re.
This share sale means that the founders of Britam have now ceded control of the firm to a foreign investor.
Following the transaction, Swiss Re, International Finance Corporation (IFC) and private equity firm Africinvest now hold a combined 40.79 percent stake in Britam compared to the 39.2 percent equity held by the founders, including Mr Mbaru, Peter Munga, Benson Wairegi and James Mwangi.
Last year, Swiss Re also purchased over 300 million shares from Peter Munga.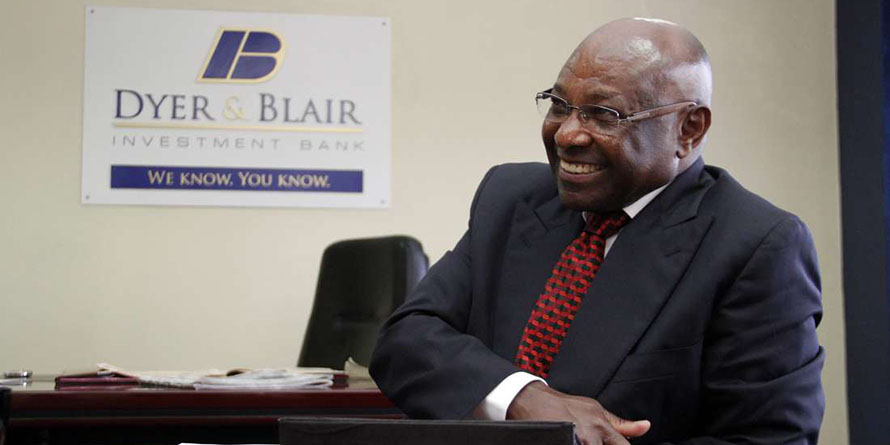 The multinational, which now has a 15.79 percent stake in Britam, did not disclose the price it paid in the deals with Mr. Munga and Mr Mbaru.
Africinvest's stake of 16.2 percent emerged from a combination of being issued with new shares and buying additional stock on the NSE.
IFC was also issued with new shares, resulting in its 8.8 percent equity. The transactions have been motived by a need to raise new capital to fund the company's growth and the founders' desire to take profits and diversify their personal portfolios.
Increased purchase of the insurer's shares by the institutional investors signals their confidence in Britam's long-term future prospects despite its recent weaker earnings and share price rout.
The company's market capitalisation has dropped 62.8 percent from its peak of Sh. 57.6 billion in February 2015 to the current Sh. 21.4 billion, with the share price receding to the present level of Sh. 8.5.
Britam reported a Sh. 2.2 billion net loss in the year ended December compared to a net Sh. 527.4 million profit the year before, with the performance attributed to Sh. 3.2 billion paper losses on its listed equities investments among other factors.
Comments
comments