National School Games; all you need to know about rugby
With Term One National School Games action now in the back burner, the 2019 East Africa first phase of qualification is over and the identity of all the teams in basketball, hockey, rugby 15s, rugby 7s, swimming, handball, cross-country and athletics that will be competing in Arusha, Tanzania in August is known.
After the Kenya Secondary Schools Sports Association (KSSSA) decided to have rugby sevens and 15s played together in term one, as expected, rugby action highlighted the week-long inter school competition held in Shanzu Teachers College and Shimo La Tewa High School grounds in Mombasa.
Here are some of the talking points.
Kakamega History in Rugby 15s
Powerhouse Kakamega School clinched their unprecedented eighth title in rugby 15s after edging Nairobi's Dagoretti 18-11 in the finals.
The Western region based team reclaimed the title they last won in 2017 bouncing back after they were shocked by Menengai in the semi-finals in last year's edition, won by Upper Hill.
The multiple national champions popularly known as Barbarians and who have produced potent players in the country won all her matches from the group stages all the way to the finals.
Placed in Pool 'B', the 2016 East-Africa champions downed Kabianga 27-09, Kangaru 21-09 and Galana 62-03 to top the group before thrashing Alliance 22-03 in the last four to set up a showdown with Dagoretti in the final.
At the same time, high flying Kakmega fullback David Kamau was feted the Most Valuable Player of the 15s for his outstanding performance, with his feat capping another milestone for his side.
Upper Hill Maiden 7s title
Fresh from bagging their first ever 15s title in 2018, the Nairobi region based school defied all odds to clinch their maiden sevens title to complete their National School Games mesmeric run in two years.
To win the title, Upperhill, who are also the Nairobi champions stunned immediate champions Laiser Hill 12-7 in a pulsating final bagging their first ever sevens title and in the process claimed the 'Battle of Hills ' bragging rights.
Enroute to writing history, the Thomas Walgwe coached side saw off Katwanyaa of Machakos, Kerugoya of Central, last year's 15s fellow finalist Menengai, St. Peter's Mumias and Laiser.
After losing in the 2016 finals, it was a sweet affair for the Nairobians, and a god time to inflict revenge on their opponents who denied them the title three years ago.
If they replicate their heroics in their first outing in East Africa as Kenyan champions in August in Arusha, Tanzania, Upper Hill will become the first ever team to clinch national and East Africa 15s and 7s titles in two years.
Teams Making East Africa Return
In Tanzania, there will be regulars in both versions but it will also be a chance for other teams which will be making a return to the scene after a long hiatus.
Nairobi's Dagoretti who finished runners up in 15s losing to Kakamega, will be representing Kenya for the first time ever while Kangaru will be making a comeback since 2013. Kangaru defeated Alliance in the third place play-off.
In sevens, 2015 champions St. Peter's Mumias will be making a return after finishing third, behind champions Upper Hill and Laiser Hill.
Since Kenya is the defending champions in rugby, it will send six teams in Tanzania; three for sevens and other three in 15s.
Video Of The Day: Ministry of Education may scrap 98 'useless' degree courses
Comments
comments
Democrats pressure Trump on Russia report
Democrats are keeping up pressure on President Donald Trump following the long-awaited release of a report into Russian meddling in the 2016 election.
They want Robert Mueller, the man who collated the report, to publicly testify before congress about the work he has done.
The redacted report, which was released on Thursday, reveals the president tried to get Mr Mueller fired.
Mr Trump's legal team has described its release as a "total victory".
Get breaking news on your Mobile as-it-happens. SMS 'NEWS' to 22163

The 448-page redacted document is the result of a 22-month investigation by Mr Mueller, who was appointed to investigate alleged Russian interference in the 2016 election and possible collusion with the Trump campaign.
What's in the report?
Mr Mueller's report says he found no criminal conspiracy between Mr Trump's campaign and Russia, but could not reach a concrete legal conclusion on whether Mr Trump tried to obstruct the investigation.
"If we had confidence after a thorough investigation of the facts that the president clearly did not commit obstruction of justice, we would so state," the report says. "Based on the facts and the applicable legal standards, we are unable to reach that judgement.
"Accordingly, while this report does not conclude that the president committed a crime, it also does not exonerate him."
The report also reveals:
Mr Trump instructed a White House lawyer to try to get Mr Mueller removed over alleged "conflicts of interest", but the lawyer resigned because "he did not plan" to follow the directive
Mr Trump reportedly used an expletive when the investigation was announced, adding: "Oh my god. This is terrible. This is the end of my presidency"
Mr Mueller examined 10 actions by the president in regards to obstruction of justice, which he said largely "took place in public view"
The report says that potential obstruction of justice by the president only failed because members of his administration refused to "carry out orders"
Investigators viewed the president's written responses to their questions as "inadequate" but chose not to pursue a potentially lengthy legal battle to interview him
What do Democrats say?
Democrat congressional leaders Nancy Pelosi and Chuck Schumer in a joint statement said the report painted a "disturbing picture of a president who has been weaving a web of deceit, lies and improper behaviour".
The party has begun moves to try to obtain the full, unredacted document and to have Mr Mueller testify before Congress.
Congresswoman Jackie Speier told the BBC that Mr Mueller had "basically tossed the ball to Congress and said, 'you need to pursue obstruction of justice here'."
Democrats have also attacked US Attorney-General William Barr, accusing him of "misleading" them with an earlier summary of the report's findings regarding whether Mr Trump obstructed justice.
Mr Barr held a news conference before the report was made public in which he backed the president.
The report has long been viewed as a potential tool to impeach the president but the House Majority Leader Steny Hoyer said this would not be "worthwhile at this point".
"Very frankly, there is an election in 18 months and the American people will make a judgement," he told CNN.
How has Mr Trump responded?
Speaking at an event for veterans, Mr Trump said he was having a "good day" – adding that there was "no collusion" and "no obstruction".
Representatives for the president have also reiterated his view that the investigation was a "hoax" and called for reprisal inquiries.
"President Trump has been fully and completely exonerated yet again," Mr Trump's 2020 campaign manager Brad Parscale said in a statement.
"Now the tables have turned, and it's time to investigate the liars who instigated this sham investigation into President Trump, motivated by political retribution and based on no evidence whatsoever."
His comments followed a stream of social media posts by the president on Thursday regarding the report's release.
In one tweet, he said he had the right to "end the whole witch hunt" and fire Mr Mueller had he wanted to.
Comments
comments
AK boss Jack Tuwei elected Africa Athletics vice president ▷ Kenya News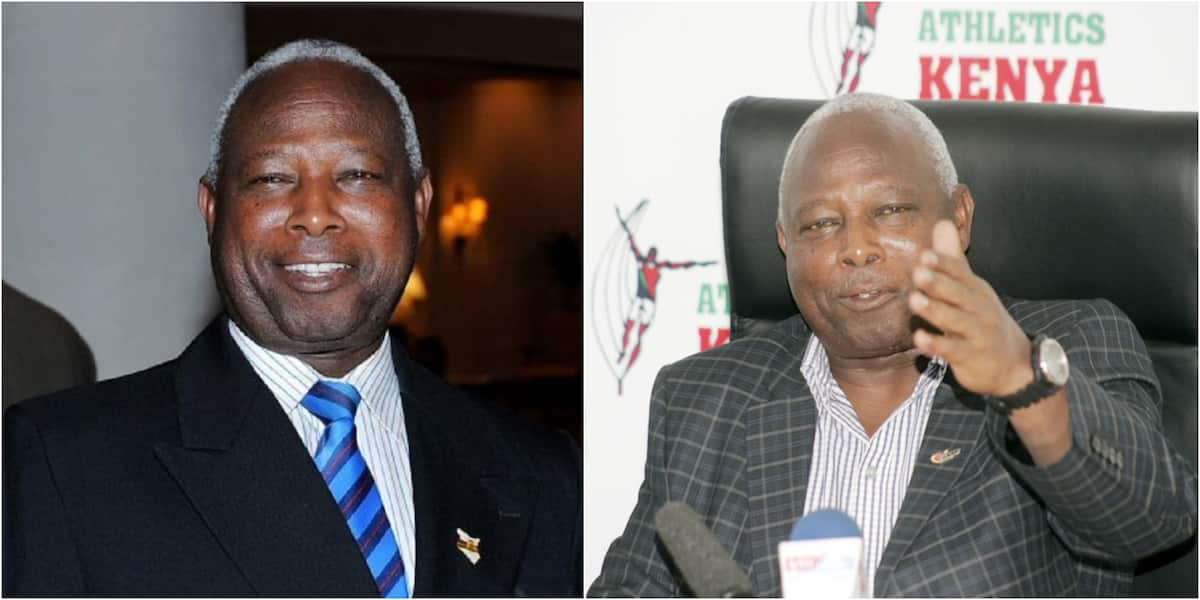 Athletics Kenya (AK) President Jack Tuwei has been elected the Confederation of African Athletics (CAA) senior vice president.
The retired General was elected unopposed and will now serve under Cameroon national Hamad Kalkaba Malboum, who was re-elected to the position for the next four years.
READ ALSO: Arsenal star Mesut Ozil sends more goodies to young Kenyan herdsboy Lawrence Masira
READ ALSO: Champions League: Wanyama makes history, becomes 2nd Kenyan to make it to semi-final
The AK boss was elected during the CAA Congress attended by International Association of Athletics Federation (IAAF) president Sebastian Coe on Tuesday, April 16, in Abidjan, Cote D'Ívoire.
PAY ATTENTION: Install Pitch Football app for FREE to easily access stats, news and live updates
Tuwei has his work cut out; he must ensure that African athletes are protected against unfavorable treatment.
READ ALSO: Sintofahamu yazuka baada ya babake DPP Noordin Haji kunaswa akifyatua risasi hewani
Recently, the man who took over from the late Isaiah Kiplagat as AK boss, met Coe to seek assurances on the changes to the Diamond League, approved by the IAAF in March.
PAY ATTENTION: Become a member of the leading sports Facebook group 'TUKO Michezo'
The IAAF announced a decrease in the maximum track event distance from 5,000 metres to 3,000m, prompting a backlash from athletes and officials in African countries.
The two African countries most affected by the decision would be Kenya and Ethiopia who are traditional long distance giants.
AK also expressed Kenya's concern at the IAAF decision to reduce the number of meetings held each season from 14 to 13.
However, Coe and IAAF chief executive Jon Ridgeon insisted the changes would not affect African athletes alone.
Story by Sasha Amor, TUKO Correspondent.
Do you have an inspirational story you would like us to publish? Please reach us through [email protected] or WhatsApp: 0732482690 and Telegram: Tuko news.
Describe your EX using one Kenyan food:
Source: Tuko.co.ke
Comments
comments
Professional footballers to boycott social media in racism protest
Professional footballers in England and Wales are to boycott social media for 24 hours on Friday, to protest against the way social networks and football authorities respond to racism.
It follows a number of high-profile incidents in domestic and international matches this season.
Earlier this week, Manchester United captain Ashley Young was racially abused on Twitter.
And Watford captain Troy Deeney said "enough is enough".
"On Friday we are sending a message to anyone that abuses players – or anyone else – whether from the crowd or online, that we won't tolerate it within football," said Deeney, who disabled comments on his Instagram after abuse earlier this month.
"The boycott is just one small step, but the players are speaking out with one voice against racism."
Racist chanting was directed at several England players including Danny Rose during a Euro 2020 qualifier in Montenegro last month – the Spurs defender later said he "can't wait to see the back of football".
"I don't want any future players to go through what I've been through in my career," said Rose. "Collectively, we are simply not willing to stand by while too little is done by football authorities and social media companies to protect players from this disgusting abuse."
The #Enough campaign, organised by the Professional Footballers' Association, starts at 09:00 BST on Friday and runs until 09:00 BST on Saturday. Players have been encouraged to post a #Enough graphic on their social media platforms before the boycott.
Manchester United defender Chris Smalling added: "The time has come for Twitter, Instagram and Facebook to consider regulating their channels, taking responsibility for protecting the mental health of users regardless of age, race, sex or income."
The PFA said the boycott was the "first step in a longer campaign to tackle racism in football".
"The boycott acts as a show of unity by the players, and a call for stronger action to be taken by social networks and footballing authorities in response to racist abuse both on and off the pitch," the PFA said in a statement.
Young was abused after United's Champions League exit to Barcelona on Tuesday. Accounts identified in this case as violating Twitter's abusive behaviour policy have been prevented from posting again until the offending tweets have been removed.
Incidents of racist abuse in 2018-19
December: Banana skin thrown on to the pitch during the north London derby at Emirates Stadium, after Pierre-Emerick Aubameyang scored for Arsenal
December: Raheem Sterling suffers alleged racial abused during Manchester City's defeat at Chelsea. Sterling later says newspapers are helping to "fuel racism" by the ways in which they portray young black footballers
March: Chelsea lodge a complaint with Uefa over racist abuse aimed at Callum Hudson-Odoi during the second leg of their Europa League win at Dynamo Kiev
March: England report racist abuse of players during their 5-1 win over Montenegro in Podgorica
April: Juventus' 19-year-old Italian forward Moise Kean suffers racist abuse from the stands during a match at Cagliari – with team-mate Leonardo Bonucci's suggestion that Kean was partly to blame called laughable by Raheem Sterling
April: Derby winger Duane Holmes and Wigan defender Nathan Byrne are targeted by the alleged racist abuse in the Championship
April: Deeney and Watford team-mates Adrian Mariappa and Christian Kabasele receive racist abuse on social media
April: Young targeted on Twitter
Comments
comments