Infinix S4 officially launched in Kenya with 3 Back Cameras and a 32MP Selfie Camera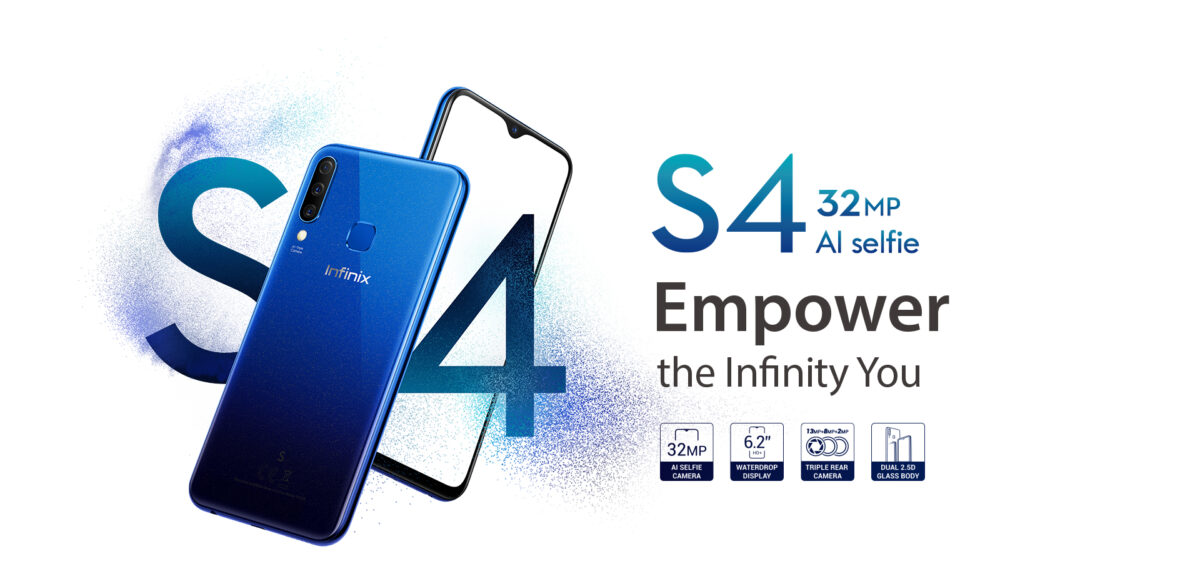 The Infinix S4 that was already launched in Nigeria is now available in Kenya starting at:
Ksh. 14,999 for 3GB RAM, 32GB storage, and
Ksh. 18,999 for 6GB RAM, 64GB storage.
You can pick up the phone immediately from InfinixMall. Countrywide, it is available for pre-order in the different retail shops, and will be on sale after Easter.
During the launch, Infinix said they want to build a community between consumers and the company, to help with their innovation story because they want to push more affordable devices with premium specs, and designs. This could work well for the company given the competition that's coming around in the name of Samsung and Huawei.
The S4 comes with a premium glass finish, three cameras at the back, a 32MP selfie shooter, and a huge 4000mAh battery. It is the company's first device with a teardrop notch. The 6/64 model is the one I am most excited for.
This is a different approach by the company, and perhaps a quick rejoinder to try and counter Samsung's attack with their new A-series. Given that Infinix is once again giving better specs in terms of RAM, Storage, and even a more versatile camera system, I now feel like this is the company that we once knew to want to push incredible specs at affordable prices.
In Feb we talked about this being the year of Budget Smartphones. And every launch is pointing towards that. I cannot wait for what other companies will launch in their bids to out-do each other.
What are your thoughts on the new Infinix S4?
Infinix S4 Full Specifications and Price in Kenya
Display
Type
IPS LCD Display
 
Size
6.2 inch HD+ (19:9) with Waterdrop Notch
 
Resolution
1520x720pixels
 
Platform
Operating System
Android 9.0 (Pie) with XOS Cheetah Skin
 
Chip
Helio P22
 
GPU
_
 
Memory
RAM
3/6GB
 
Internal
32/64 GB (microSD (dedicated slot))
 
Network
SIM
Dual SIM Support
 
Support
2G, 3G, 4G
 
Cameras
Main
Triple:
13MP+8MP+2MP with Quad Flash
 
Front
32MP with flash
 
Battery
Size
4000 mAh non-removable battery
 
Colours
Purple, Gold, Black
 
Features
Fingerprint (rear), Micro-USB, All Glass Design
 
Price
Expected

KES. 14,999 for 3/32GB

KES. 18,999 for 6/64GB
Comments
comments
Mali government resigns as violence surges
The prime minister of Mali and his entire government have resigned, following an upsurge of violence in the country.
On Wednesday, a motion of no confidence was submitted as MPs blamed Prime Minister Soumeylou Boubeye Maiga for failing to handle the unrest.
Last month, scores of herders were killed by a rival ethnic group.
President Ibrahim Boubacar Keita said in a statement that he accepted Mr Maiga and his ministers' resignation.
Get breaking news on your Mobile as-it-happens. SMS 'NEWS' to 22163

"A prime minister will be named very soon and a new government will be put in place after consultations with all political forces," the statement said.
Mali has been struggling to control violence since Al-Qaeda-linked Islamist extremists gripped the desert north of the country in 2012.
Despite an ongoing military drive and a 2015 peace agreement, jihadists still dominate areas huge areas of the country, having migrated from the north to the more heavily populated centre of the country.
The government has come under increasing pressure over its inability to restore stability, particularly after the massacre of 160 Fulani herders in the Mopti region.
Armed with guns and machetes, the attackers appeared to be members of the Dogon ethnic group, which has a long history of tension with the nomadic Fulani people.
The country was shocked by the killings and tens of thousands of people protested on the streets of the capital Bamako on April 5.
The president said in a televised address on Tuesday that he had "heard the anger".
Tell Us What You Think
Comments
comments
How Gaming in the Classroom Prepare Children for Life
Do you live in a
surveillance state? If so, it is possible that you have children. Teaching
children how to accept their fate can be extremely difficult. In the modern
world, adults and children are often monitored without their knowledge. Whether
you live or visit an area with constant surveillance, it is crucial to prepare
your children for the undertaking in advance. If your child is
school-age, you are in luck because schools are now utilizing gaming for this
exact purpose. Below, you will discover the benefits of gaming for
surveillance.
Teaches About Surveillance
Even though some
children are familiar with surveillance, many of them cannot comprehend its
true meaning. Gaming is now utilized in classrooms to help teach children
exactly what surveillance is and how it world. Some schools are utilizing games
that monitor their students' activities online. These games monitor the
activities of students and report the findings back to the staff. While this
may appear to be a strange way of teaching children about surveillance, it has
proven to work very effectively.
Teaches Awareness
While some
schools never reveal their surveillance activities to parents or students,
there is always the risk of them finding out. When children suspect that they
are being surveilled, they become suspicious. It really depends on the child to
whether or not they reveal their suspicions to their parents. Over time, these
children will become more aware of their schools' surveillance activities. This
not only prepares children for mass surveillance, but also teaches them how to
accept it.
Parent Involvement
Most parents
want to be involved in school activities. And, if the school is monitoring and
recording their child's online and offline activities, they want to know about
it. Gaming platforms, such as Sbobet88,
protect children from risky online activity by banning them. It is vital to
understand that parents being involved are going to make things so much
different. When parents are involved, children are more likely to get involved.
In return, this is going to increase the likelihood that the children are going
to play along and get ready for the upcoming surveillance state.
Technology Everywhere
When technology
is everywhere, you can guarantee that the children are going to become more
comfortable with it. This is going to create big problems. The children are
going to feel like the technology is just a part of the process. It will
condition them to believe that technology is fine and perfect. This is far from
the truth. Nevertheless, the games will encourage them to believe it and it
will ultimately allow them to accept being monitored around the clock by
cameras and other technological
devices.
Summary
At the end of
the day, a surveillance state is coming. It is just a matter of time. Look at
schools. Games are becoming more common in the school place and this is just
one way the government is preparing children for it. With that being said,
parents should be concerned about the types of games that are being used in the
school systems.

Reads
50
Related
Comments
comments
KawiSafi Ventures raises $70m for clean energy accelerate in East Africa
Acumen today announced that its for-profit fund, KawiSafi Ventures has raised approximately $70 million to drive energy access for millions of low-income people in East Africa and scale the clean energy sector.
Acumen, through Acumen Capital Partners has invested $22 million of patient, philanthropic capital across the off-grid ecosystem and impacting 81 million lives. Acumen is now going into for-profit investments away from philanthropic capital.
KawiSafi will use the funds to accelerate growth of clean energy companies in East Africa. Some of KawiSafi's early supporters include anchor investor the Green Climate Fund along with Steve Jurvetson, Chris Anderson and the Skoll Foundation. Acumen, as sponsor, holds an equity interest in the fund.
According to Jacqueline Novogratz, Founder and CEO of Acumen, "We created KawiSafi to prove that renewable, off-grid energy can be a faster, cheaper and cleaner way to electrify the continent. By building scalable solutions that can bring power to low-income communities that have lived without electricity for too long, we can create a seismic shift in off-grid energy, releasing immense levels of human productivity and minimizing impact on the environment. Given that Africa's population is expected to nearly double by 2030, a clean energy strategy is good not just for the continent but for everyone."
In sub-Saharan Africa, more than 600 million people currently live without electricity and spend $17 billion a year on dirty, inefficient energy. KawiSafi aims to deliver clean, affordable energy to 10 million people, at least half of whom live in poverty, and displace more than one million tons of carbon dioxide in the next 10 years, to address energy poverty and help avert the current climate crisis. To date, KawiSafi has invested $21 million to impact 4.3 million people and avert 360 thousand tons of carbon dioxide emissions.
"The energy landscape has changed drastically in the last decade, and we have seen proven, profitable businesses emerge that are already transforming how low-income people access electricity," said KawiSafi's Managing Director Amar Inamdar. "These companies need early-growth capital to scale so they meet customer demand and drive innovation in a rapidly evolving ecosystem. KawiSafi will fill critical market gaps to create a sustainable, off-grid ecosystem, supporting countries to realize their UN Sustainable Development Goal of universal energy access.
d.light, a longtime Acumen investee, is one of KawiSafi's first investments. The company, which manufactures and distributes a broad range of high-quality, affordable solar products, has impacted more than 90 million lives and offset 21 million tons of CO2. d.light recently closed $41 million in Series E financing, demonstrating how KawiSafi can help accelerate growth for companies with proven business models poised to generate significant financial and social returns.
KawiSafi is managed by Acumen Capital Partners LLC, an Acumen-owned subsidiary that structures and manages funds investing in social enterprises poised to scale to transform the lives of low-income people everywhere and solve some of poverty's greatest challenges. .

Reads
51
Related
Comments
comments