Homeboyz Radio pulls popular show, suspends Didge for joking about Ivy's murder – Nairobi News
Homeboyz Radio has pulled a show and suspended one of its presenters who on Tuesday night made fun of the macabre murder of medical student Ivy Wangechi.
Didge, a presenter on the popular show, Mtaani, is said to have made jokes and puns about the murder that happened on Tuesday while other presenters laughed. He has since been suspended.
According to Mwass who listened to the show, the jokes were in bad taste.
"WTF is that conversation going on @HomeboyzRadio? How does someone hack the girlfriend to death and you guys are on air making jokes about the situation? Why is Didge making puns about being chopped up and everyone breaking into laughter? F*** you!" tweeted Mwass.
He added: "Didge even went to the extent of telling women to be careful of guys they date because that's how they might die. 'UkiDate dereva atakunyonga na seatbelt. Msee wa butchery atakuchinja'."
KILLED IN HOSPITAL
Wangechi, a sixth-year medical student at Moi University School of Medicine, was killed inside Moi Teaching and Referral Hospital in Eldoret where she was doing her final exams.
The suspect, Naftali Njahi Kinuthia, is said to have hit her with an axe before slitting the throat with a sword.
Now the station has stopped the show for an internal investigation.
"We have removed the show from schedule pending further internal investigation. The presenter in question has also been immediately suspended by the station," the station managing director made in a statement shared on its Twitter page.
"While the show is off air we will take the necessary steps to ensure that such a lapse does not happen again. This includes strengthening the production and editorial process."
The MD added that although Mtaani by its nature offers hard-hitting, honest and unfiltered view of the lives of many of its listeners, it is no excuse for "insensitive broadcasting".
"After reviewing the show recording we have found the comments made to be in extreme poor taste and apologize without reservation,".
Comments
comments
Kenya: More Trouble for Kenyans Who Fail to Get 'Huduma Namba'

By Donna Atola
The government will block SIM cards of people without Huduma Namba after the registration drive, Communications Authority of Kenya Director-General Francis Wangusi said Thursday.
The mass registration for the National Integrated Identity Management System (Niims), dubbed Huduma Namba, is expected to end on May 18th.
"We will ask service providers to shut down SIM cards of those who will not have acquired Huduma Namba," Mr Wangusi said.
He added: "Those without SIM cards will not be able to purchase new ones without Huduma Namba."
The digital listing programme was launched earlier this month by President Uhuru Kenyatta but the government was barred by the High Court from forcing Kenyans to register.
The High Court also barred the government from using the data to withhold any services or bar anyone from accessing public facilities.
In addition, the government cannot also share the collected information with international bodies.
Comments
comments
Magazeti ya Kenya Aprili 19: Mgogoro Jubilee waendelea huku Uhuru akimpiga breki DP Ruto kuhusu Raila ▷ Kenya News
Magazeti ya humu nchini yameangazia habari kuhusu masuala mbalimbali, lakini kuu zaidi katika magazeti yote ni mgogoro wa siasa katika Chama cha Jubilee.
Hasa kauli ya punde ya Rais Uhuru Kenyatta aliyemjibu Naibu Rais William Ruto na marafaiki zake kuhusu madai eti Raila Odinga anavuruga Jubilee.
Habari Nyingine: Jamaa apewa kichapo na mkewe kwa kukataa kumwambia ni mrembo
1. The Standard
Kitendawili kuhusu pacha wawili Kakamega kinaendelea kutawala hata baada ya Mkurugenzi wa Uchunguzi wa Jinai kuahidi kuanzisha uchunguzi na kuchukua hatua zinazofaa dhidi ya maafisa waliohusika na kuwatenganisha wawili hao.
Mama yake Sharon Mathias na Melon Lutenyo wote wameahidi kuridhika na matokeo ya DNA yatakayotokea baada ya vipimo.
Katika Hospitali ya Rufaa ya Kakamega walikozaliwa pacha hao, kamati ya uchunguzi imebuniwa kuchunguza utata huo na kuwasilisha ripoti kuhusu kisa hicho kilichoanzia miaka 19 iliyopita.
Hata hivyo, huenda stakabadhi zinazotafutwa zisipatikane kwa kuwa tayari Waziri wa Kaunti wa Afya Kakemega Rachel Okumu ameelezea ugumu wa kuzipata kwa kuwa nyingi huhifadhiwa hadi kipindi cha miaka minane kisha kutupwa.
Habari Nyingine: Ingawa Ivy Wangechi anazikwa FIDA wanasema ni lazima haki ipatikane, wajitolea kusimamia kesi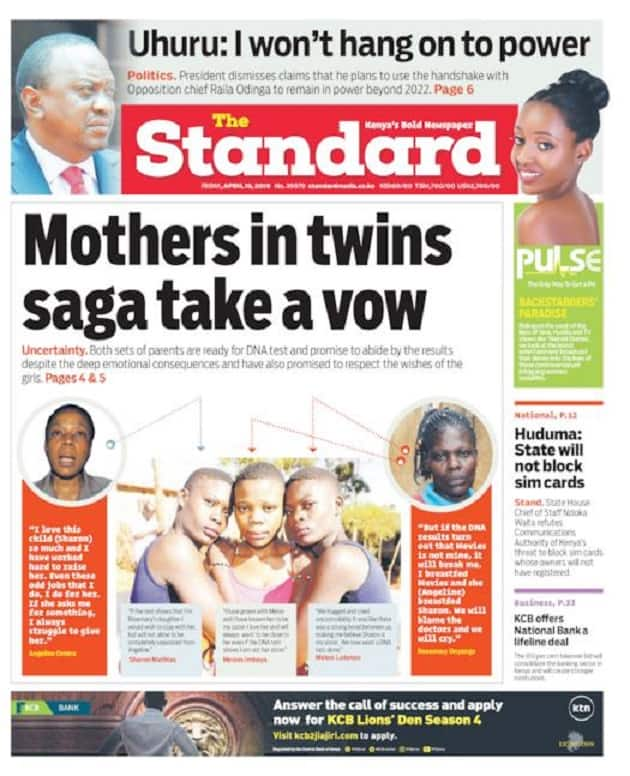 2. Daily Nation
Gazeti hilo limeangazia vuta n'kuvute inayoshuhudiwa kati ya Uhuru Kenyatta na naibu rais William Ruto.
Ruto amekuwa akishutumu sana ukaribu wa kiongozi wa Upinzani Raila Odinga katika uongozi wa Jubilee na kila mara amekuwa akumshutumu kwa kuwa na njama ya kukivunja chama hicho kabla ya kinayang'anyiro cha urais 2022.
Hata hivyo, kwa mara ya kwanza, rais alijitokeza katika wanachisema wachanganuzi wa siasa ni rais kumjibu naibu rais moja kwa moja.
Kulimngan na Uhuru, Raila hajawahi kumwambia atawania urais 2022 wala hajamwambia mwakilishi huyo wa Umoja wa Afrika anataka kuendelea kuwa madarakani.
Rais alisema hajawahi kuzungumza na Raila kuhusu siasa za ODM ama Jubilee. Alisema wao wamelenga sana mazungumzo kwa lengo la kuijenga nchi, tofauti na wanavyoamini wengi katika chama chake.
Hata hivyo, hii sio mara ya kwanza kwa Uhuru na Ruto kuonekana kutokubaliana kwa jambo hasa kuhusu uongozi.
Habari Nyingine: Uhuru Kenyatta amfokea William Ruto kwa kueneza uvumi Raila Odinga ana njama ya kuivunja Jubilee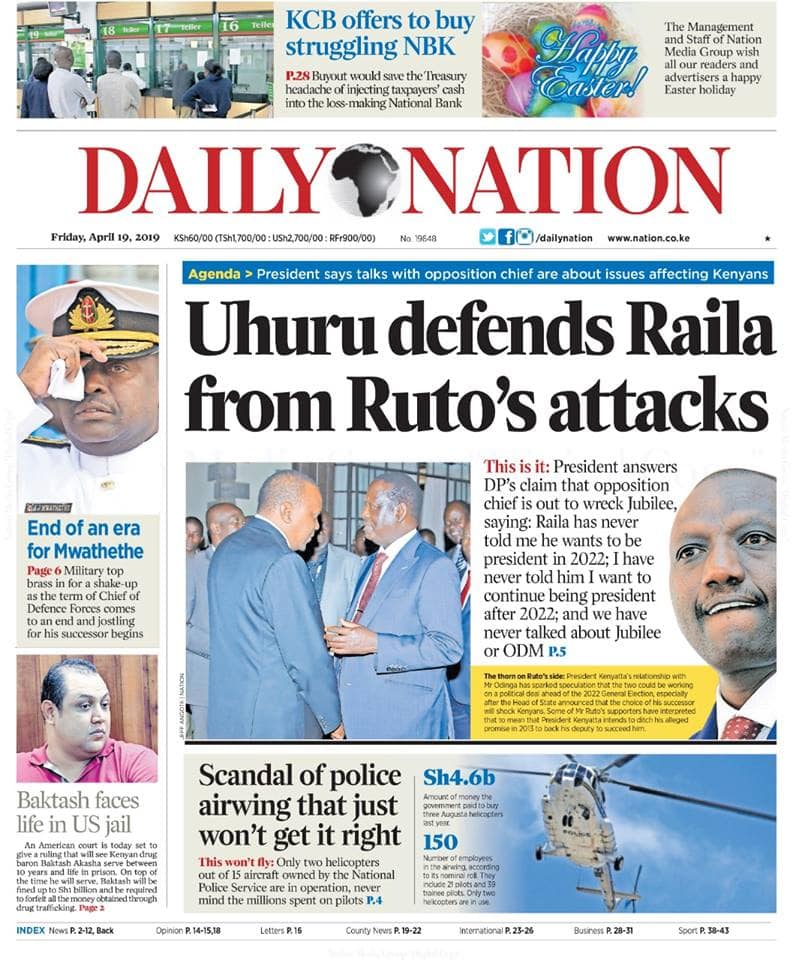 3. The Star
Habari kuu katika gazeti hili ni kuhusu uzito wa jibu la Uhuru kwa naibu rais katika Chama cha Jubilee.
Kulingana na marafiki wa Ruto, rais hasemi ukweli anapodai hafahamu kuhusu historia ya Raila katika kuvuruga vyama.
"Inaonekana rais amesahahu kuhusu tabia ya Raila. Amesahau Raila ni nani. Ikiwa rais amesahahu tutamkumbusha Raila ni nani," Mbunge wa Kapsaret Oscar Sudi, mtetezi mkuu wa naibu rais alisema.
Haya yanajiri huku kundi lingine katika Jubilee linalompinga Ruto kuhusu siasa za 2022 likiendelea na kampeni zake likidai yeye ni mtu anayeandamwa na madai na kashfa nyingi za ufisadi.
Habari Nyingine: Atwoli ajitetea kuhusu matamshi yake, akanusha uvumi kuwa alimtakia Ruto kifo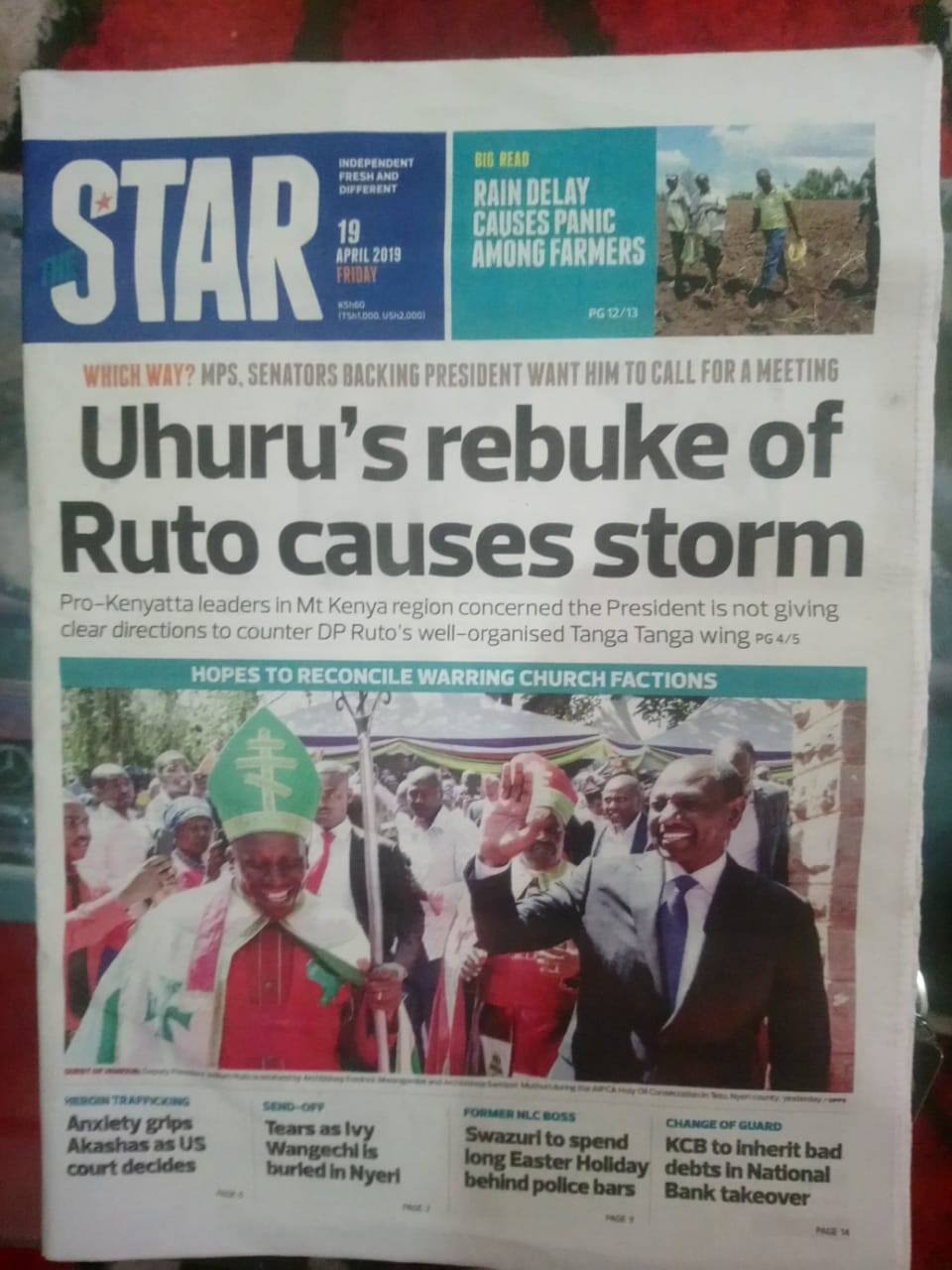 4. Taifa Leo
Kichwa kikuu cha gazeti hilo ni "Serikali Yatishia Kuzima Simu" kwa kuzingatia kauli ya kutisha kutoka kwa Mamlaka ya Mawasiliano (CA) kwamba Wakenya watakaokuwa hawajajiandisha kwa Huduma Namba watazimiwa kadi zao za simu. Kauli hiyo iliyolewa na Mkurugenzi Mkuu wa CA Francis Wangusi.
Hata hivyo Ikulu imejitokeza na kukanusha kauli hiyo na kusema si lazima kwa Wakenya kujisajili kwa nambari hiyo hasa kwa kutegemea uamuzi wa korti iliyowasilishwa na kundi la kutetea haki za binadamu.
Mamlaka hiyo ilitoa taarifa baadaye na kusema Wangusi alinukuliwa vibaya na kusema hamna mipango yoyote ya kuzima SIM.
Habari Nyingine: Kamishna wa Kaunti, maafisa wa usalama wasusia hafla ya DP Ruto mjini Nyeri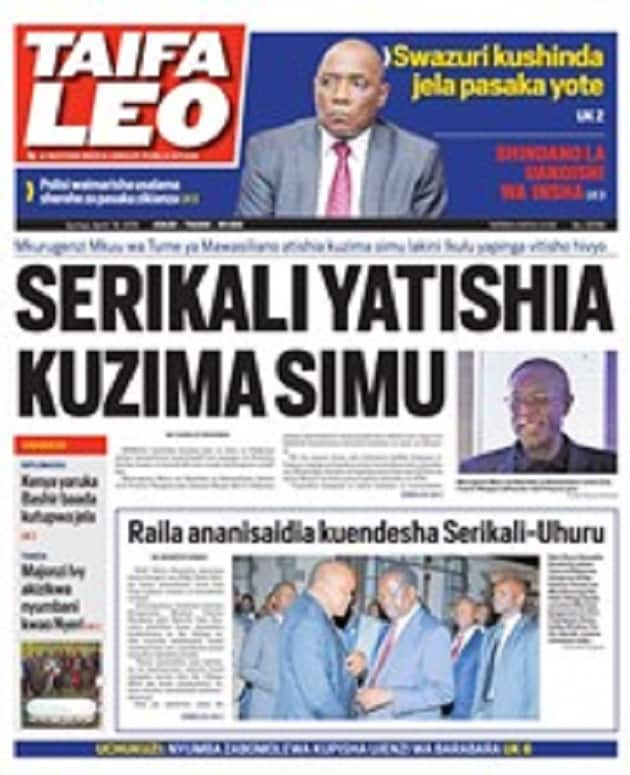 Read ENGLISH VERSION
Je, unayo taarifa ya kusisimua ambayo ungependa tuichapishe? Tafadhali, wasiliana nasi kupitia [email protected]; [email protected] au WhatsApp: 0732482690. Tufuate kwa Telegram: Tuko news.
Source: Kiswahili.tuko.co.ke
Comments
comments
Easter: Why it's not 'cool' for kin to travel together
It is common for relatives to travel in the same vehicle when going to a common destination.
This may be a wedding, a burial, or simply visiting a public social place such as a mall. Sadly, some of these journeys have ended tragically.
In January for instance, six family members, among them four children and their grandfather, died in a road accident on the Kericho-Nakuru highway.
In another crash in July 2016, five members of the same family perished at Salgaa, on the Nakuru-Eldoret Highway. The five were: father, son, daughter-in-law and two grandchildren.
In yet another heart-rending case, in August last year, five members of the same family died in a grisly road crash at Kianungu on the Nyeri-Nyahururu Road.
A man, his two children and two female relatives perished. They were returning home from a family gathering.
During the Easter season last year, a woman and her four children perished on the Nakuru — Eldoret highway. They were heading to Ol Kalou in Nyandarua County for bride price payment.
Over the years, the shattering news of relatives dying on our roads at the same time have led some to reconsider travelling in the same vehicle.
Whatever mode of travelling they are using, public or private, they either travel on different dates, or use different vehicles.
Daisy Okoti's is one such family. Unlike most people who travel as a family, Daisy cannot remember the last time she travelled together with her sisters.
"I have two sisters, and as far back as my memory can go, the three of us travelled separately. When we were younger, it was usually the firstborn travelling alone and then the two of us would travel together," says Daisy.
When they were in primary, one of them used the institution's van, while the other two would use public means to get to school.
"Our neighbours and schoolmates thought that one of us was favoured, but it was our parents' way to ensure that we did not travel in the same vehicle," she says.
They are all adults now, but this structure of travelling separately is so ingrained in them that the thought of the three travelling together does not even come up.
"Sometimes two of us travel together, but never the three of us. Even when we are offered a lift, it is very natural for one of us to step back.
"When travelling home over the holidays, since we all live in Nairobi, it takes us about three days to get home for Christmas. We pick dates carefully. One could go on a Tuesday, the other on a Wednesday and the last one on a Thursday. Or two of us would arrive on the same day but at different times, different means."
Comments
comments